Men jailed for Heathrow Airport cocaine smuggle attempt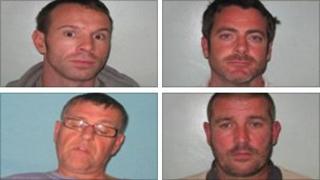 Seven men have been jailed for a bid to smuggle cocaine with a street value of £4.5m through Heathrow Airport.
The men were part of a gang which hired baggage workers to help smuggle 12kg of cocaine from Brazil in September 2009.
Mark Oliver, 30, Malcolm Bax, 31, Andrew Robinson, 46, and Michael Hopkins, 51, were found guilty of knowingly importing the drugs.
Anthony Rouse, 53, Charles Oliver, 29, and Anthony Cenci, 24, admitted to the same charges at Croydon Crown Court.
Mark Oliver was previously convicted and jailed for stealing three Louis Vuitton suitcases belonging to Victoria Beckham in 2001.
The luggage, containing designer clothes and items worth £90,000, had gone missing at the airport.
It was later found at the back of his van and a jury found the former binman guilty of handling stolen goods.
He was sentenced to 15 months in a young offenders' institution.
Orange suitcase
Rouse, of Addison Way, Uxbridge, who is unemployed, was the mastermind who carried out the crime with the help of brothers Mark and Charles Oliver, both unemployed, who knew people in a baggage handling company at the airport, Metropolitan Police said.
The Class A drugs were imported from Brazil on 27 September 2009 on board a flight to London Heathrow and placed in a large orange suitcase.
Det Insp Robert Boggon, from the Serious and Organised Crime Command, said: "More than £4m worth of cocaine, which was no doubt bound for London's streets and beyond, has been removed from circulation.
"We work tirelessly to keep drugs off the streets by bringing criminals like these to justice."
Rouse was jailed for 13 years, while Mark Oliver, of Poplar Road, Ashford, was jailed for 19 years, his brother Charles Oliver, of Clare Road, Staines, was jailed for 12 years.
Malcolm Bax, of Clandon Avenue, Egham, who was a supervisor at an airport baggage unit, was jailed for 15 years.
Andrew Robinson, an unemployed man, of Worple Avenue, Staines, was jailed for 13 years.
Michael Hopkins, who is unemployed, of De Havilland Way, Staines, was jailed for nine years while Anthony Cenci, a baggage handler of Bower Way, Cippenham, Slough, was jailed for 10 years.