Blue plaque call for 'Gandhi visit' restaurant site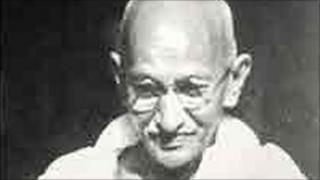 Campaigners have called for a blue plaque to be put up at the site of a former restaurant in London said to have been visited by Mahatma Gandhi.
The establishment, called Central, stood at 16 Bride's Street in the City.
Campaigners claim it is where the Indian nationalist figurehead was inspired to adopt vegetarianism.
Researchers from the University of Westminster want the City of London Corporation to agree to a plaque being placed outside the building.
The restaurant is said to have been a focal point of the vegetarian movement in Victorian London, frequented by leading figures of the day including the playwright George Bernard Shaw.
Academics from the University of Westminster's Indian Media Centre want the site to be given wider recognition.
A spokesperson said: "Passers-by would be none the wiser as to the building's historical significance or of its importance to the international icon who once dined there, a perception that the India Media Centre aims to overturn."
The City of London's blue plaques differ from English Heritage's in that they are rectangular rather than oval and a darker shade of blue.