Woman suffers broken leg in 999 Piccadilly Circus crash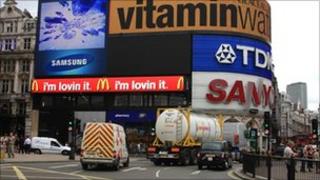 A 27-year-old woman suffered a broken leg and had to undergo surgery after she was struck by a marked police car answering a 999 call in central London.
The French woman, who lives in London, was hit in a bus lane on 21 July as she crossed Piccadilly Circus while most of the traffic was stationary.
The woman suffered three fractures to the leg but has since been discharged from hospital.
The Independent Police Complaints Commission (IPCC) has begun an inquiry.
The police car was travelling in a bus lane towards oncoming traffic and had its lights and sirens on when it collided with the woman at about 1300 BST.
IPCC Commissioner Rachel Cerfontyne said: "A young woman has been left needing major surgery for very painful injuries as a result of this collision and it is important that we examine the actions of the police officers and staff involved.
"The collision happened at a busy time of day in a part of London which would have been packed with people."