Residents opposed to new modern design of Iran embassy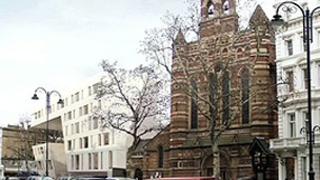 Residents in central London are opposing plans for a new design for an Iranian embassy building.
The modern design planned for Queens Gate in South Kensington has been described by local people as "insensitive" to its surroundings.
The cube-shaped building will be adjacent to the Grade II listed St Augustine's Church.
A decision on the planning application will be made by Kensington & Chelsea Council next month.
Plan 'disrespectful'
Maria Von Moltke, from the Iranian Embassy Action Group, said: "I find it extremely insensitive and rather disrespectful to be next to a well-known church.
"I cannot imagine this happening in Tehran if a building was going to go up next to a mosque."
Residents have also written to Prince Charles at Clarence House asking him to intervene.
The site is metres away from the embassy building which was stormed by the SAS in May 1980 after being taken over by six gunmen from a dissident Iranian group.