Billingsgate Fish Market porters protest over licences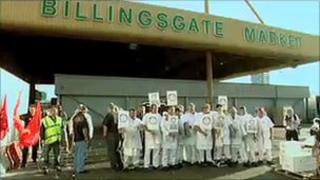 About 140 porters at Billingsgate Fish Market are protesting against plans to change the way the market is run by the City of London Corporation.
The Unite union said plans to revoke porters' licences will lead to a loss of jobs as well as threaten the market, which generates £200m a year.
The corporation said licensing in the 1876 by-law is obsolete and does not guarantee jobs or standards of porters.
The history of the UK's largest inland fish market can be traced back to 1327.
The market began trading exclusively in fish following an Act of Parliament in 1699. Every year about 25,000 tonnes of fish is sold, generating £200m.
Originally the market was located in Lower Thames Street but it was relocated in 1982 to a site near Canary Wharf.
"Licensed porters are central to the character and success of Billingsgate market," the union said.
"Their knowledge of the market, understanding of products, sizes and grades as well as commitment to the job make porters the life and soul of the market.
"The Corporation of London's changes, if implemented, will damage how the market functions, ruin Billingsgate and destroy the market's heritage.
"Unite is arguing there is absolutely no reason to suddenly change what has worked for centuries."
By-law 'out-of-date'
The corporation said the by-law relevant to porters permits the Superintendent to license anyone of "good character and fitness" to be a porter.
"The licence is, therefore, a permit to work but does not guarantee employment, nor does it guarantee standards, which are a matter for employers," it said.
"This by-law is obsolete, out-of-date, irrelevant in modern times, and could be criticised for bureaucratically restricting freedom of employment.
"The future of the market is not in any way jeopardised by revoking the by-law and removing the licensing requirement."
It added that the porters are employed by individual merchants, not by the corporation, and that the by-law was reviewed to meet Food Hygiene, Health & Safety legislation and Employment Law.
Former London mayor Ken Livingstone, who has backed the campaign, said: "The fish porters at Billingsgate are the heart of the market, they make it the vibrant and efficient business it is.
"The City of London Corporation must reconsider their plans which I believe will damage this important market."