Great Ormond Street Hospital patients moved due to fire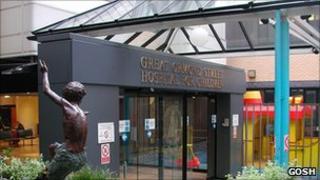 About 20 people, including patients, were evacuated off their ward during a fire at Great Ormond Street Hospital.
Thirty firefighters put out the blaze in the early hours which broke out on the sixth floor on Monday night, London Fire Brigade (LFB) said.
Two hospital staff members were treated for minor smoke inhalation.
People were evacuated to other parts of the building after smoke filled the floor. They have since been moved back into the ward, the hospital said.
A statement from LFB said the cause of the fire, which broke out after 2330 BST on Monday in the building in Bloomsbury, was being investigated.
About one metre of electrical cabling was damaged in the blaze, it added.
A spokeswoman for the Great Ormond Street Hospital said: "All clinical facilities are operating as normal, including the ward which was directly affected."