East London sham marriage probe clergymen suspended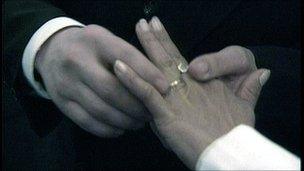 Two Church of England clergymen arrested in a sham marriages inquiry have been suspended from their duties.
The Reverend Brian Shipsides, 54, and the Reverend Elwon John, 43, were held on Tuesday during raids at their homes in east London. They have since been released on police bail.
Their churches - All Saints, in Hampton Road, and St Edmunds, in Katherine Road, Forest Gate - were also searched.
It followed the arrest of three people at All Saints' church on Saturday.
A 27-year-old Nigerian man was held as he prepared to marry a 23-year-old Dutch woman. A 30-year-old Nigerian woman was also arrested.
A spokesman for the Diocese of Chelmsford said: "The arrests and suspensions do not imply any judgements on these priests.
"We are co-operating with the police and are offering pastoral care to those affected by the situation in the parish."
All Saints and St Edmunds' churches operate together. Mr Shipsides is the priest in charge and Mr John is associate minister for both churches.
Mr Shipsides was arrested at his vicarage in Claremont Road on suspicion of conspiracy to breach immigration law and attempting to pervert justice.
He appears in the Guinness World Records for officiating at the wedding of the world's tallest married couple in 2001.
Mr John was arrested at his home in Kennedy Road, Barking, on suspicion of conspiracy to breach immigration law.
The Nigerian man has been charged with perjury, attempting to gain leave to remain by deception and identity card offences.
The Nigerian woman was charged with conspiracy to facilitate breaches of immigration laws.
They are due to appear in custody at Inner London Crown Court on 4 October.
A Dutch woman, 23, has admitted facilitation offences at Stratford Magistrates' Court and been handed a two-month suspended sentence. She was banned from the UK for a year.
Related Internet Links
The BBC is not responsible for the content of external sites.