Cuts 'threaten thousands of jobs' on Tube, union warns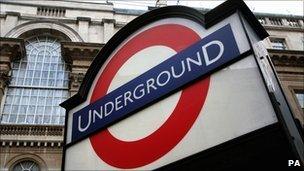 Budget cuts could put thousands of Tube staff out of work, a union has warned.
The Department for Transport gives £3bn a year to Transport for London (TfL) but this may be reduced by up to 40% as savings are made in Whitehall.
A row about plans to shed 800 ticket-office jobs could be the "tip of the iceberg" unless budgets were protected, according to the Transport Salaried Staffs Association (TSSA).
Transport for London said it was making "a powerful case" for funding.
"We are faced with having to sustain a considerable reduction in our funding," London's transport commissioner, Peter Hendy, wrote in a memo.
The TSSA and the Rail, Maritime and Transport (RMT) union are currently balloting their members about the proposed job losses in Tube ticket offices.
"If TfL loses anything like £1bn from its budget, the ticket-office cuts will just be the tip of the iceberg," said the TSSA's general secretary, Gerry Doherty.
"We could be looking at two or three times that amount because TfL have already halted all capital spending."
Mr Doherty said strike ballots would be organised over any further threat to jobs after 20 October, when Chancellor George Osborne is due to announce how and where the cuts will be made.
TfL said investing in the transport network was "vital not only to London but, as the motor of the UK economy, to the country as a whole".
"As our £5bn savings programme demonstrates, we are also fully committed to delivering improved value for money for the fare-payer and taxpayer."
Related Internet Links
The BBC is not responsible for the content of external sites.