London council attacked for asking tenants to down size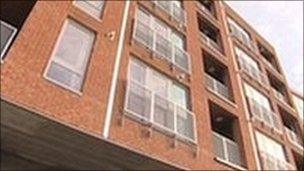 A council in west London has been criticised for calling tenants to see if they could move into a smaller home.
One "scared" council tenant in Kensington and Chelsea claimed she was told she would have to move if government plans became law.
The prime minister has said council homes should not be granted automatically "for life".
Kensington and Chelsea Council said it was advising people of their options and it would not force anyone to move.
Carla Farinhas, 58, who lives on her own in a two-bedroom flat, said she was called by a housing officer who told her she would have to move out, under the government's plans.
"I was very upset," said Ms Farinhas, who has lived in her flat for 22 years.
"I am scared I will lose my flat.
"My husband died 15 years ago, I raised my two girls here and I use the spare room when my grandchildren come to stay.
"I like the area and my neighbours, I love my home and now I am being told I could be forced to move out."
Prime Minister David Cameron said council houses should be allocated on fixed-term deals rather than for life.
"At the moment we have a system very much where, if you get a council house or an affordable house, it is yours forever and in some cases people actually hand them down to their children," he said.
"And actually it ought to be about need."
A spokesman for Conservative-controlled Kensington and Chelsea Council said the council's policies predate Mr Cameron's announcement, adding: "June's emergency budget announced that from 2013 housing benefit will be restricted to the size of the household and this will have a financial cost for people who are under-occupying properties.
"We believe it is in the tenants' interests to advise them of this proposal, as part of our advice and assistance to them.
"The council can only advise tenants on the benefits of downsizing. We cannot, and would not, force a tenant who is under-occupying a property to move to a smaller one."
A spokesman for the Labour group at the council said: "People should not be being frightened in this way and we will demand that this harassment stops immediately."
Related Internet Links
The BBC is not responsible for the content of external sites.