Further delay to Jubilee Line upgrade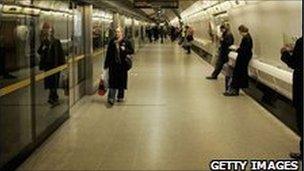 The delayed upgrade of the Jubilee Line is unlikely to be completed by the end of the year, London Underground (LU) has said.
It also announced full or partial line closures on a further 14 weekends and on three days over Christmas.
LU said it inherited an over-running upgrade when it took over maintenance contractor Tube Lines in June.
The line has been regularly closed for upgrade work, which has continually run over, since February 2007.
LU said there was only a "slim chance" of work being finished by the end of December and that it would confirm a completion date in the autumn.
Managing director of LU Mike Brown said he wanted to apologise to "passengers, communities and businesses who have suffered years of closures".
He said: "It is now clear that we inherited from Tube Lines a Jubilee line upgrade programme which was badly behind schedule."
Once complete, he said it would offer a much-improved service for passengers with increased capacity and shorter journey times.
He added: "Having taken control of Tube Lines we will ensure that the disruption caused by the Jubilee Line upgrade is not repeated during the transformation of the Northern Line."
Related Internet Links
The BBC is not responsible for the content of external sites.