Christian Wandsworth Council worker loses sacking claim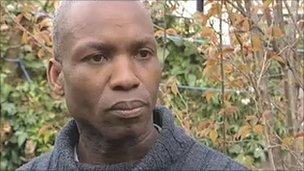 A housing official sacked after suggesting a woman with an incurable illness "put her faith in God" has lost his legal challenge.
Duke Amachree, a homelessness officer at Wandsworth Council, was suspended in January 2009 after the woman complained about a "30-minute barrage".
An employment tribunal ruled he was fairly dismissed.
Mr Amachree had launched a legal claim for unfair dismissal, religious discrimination and breach of contract.
In a statement issued by the Christian Legal Centre, Mr Amachree, who had worked for the council for 18 years, said: "I am devastated by the outcome. This is a sad day for Christians who simply want to live out their faith in the workplace without fear."
Mr Amachree, who was dismissed for gross misconduct in July 2009 following an internal investigation, may appeal against the ruling, the CLC said. He took legal action after losing an appeal against the council's decision.
A spokesman for Wandsworth Council said: "We're delighted that the tribunal has found in our favour, supported the common sense and wholly reasonable way we handled this case and rejected the totally spurious and misleading claims that were made against us."
The tribunal heard that when the woman, referred to as Ms X, told him that she was suffering from an incurable disease as they discussed her housing case in January last year.
Mr Amachree outlined his religious beliefs and suggested she "should put her faith in God".
Wandsworth Council said Ms X complained that she faced a "30 minute barrage" from the advisor during which she was also told not to bother with doctors.
The council said it was "inappropriate and unacceptable" that Mr Amachree also revealed details about Ms X to the media which could have led to her identification.
The London South employment tribunal, which heard the case in June and July, ruled the dismissal was "fair" and there was no discrimination on the grounds of his religion.
Related Internet Links
The BBC is not responsible for the content of external sites.