Fears over TB treatment funding cuts in London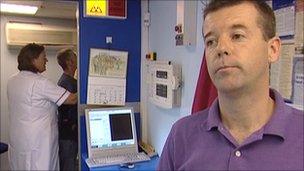 "Vulnerable" people may be put at risk because funding for London's mobile tuberculosis detection unit is to end, it is claimed.
The van, called Find and Treat, contains an X-ray machine which can detect signs of tuberculosis.
The homeless are the most at risk group so the van visits hostels across the city, but the Department of Health has said funding will end in December.
Al Story, who runs Find and Treat, said he was trying to find new funding.
He said: "It remains unclear where the money is going to come from to continue our good work.
"It is serving an extremely vulnerable population and there will be a gap in tuberculosis control in London."
NHS London has also refused to guarantee funds.
During a day BBC London spent with the van, the team scanned 50 people for signs of the potentially deadly lung disease.
One of those scanned had signs of the infection.
An NHS London spokesman said: "Tuberculosis is a serious issue in London and it is important we have the right services in place.
"We are currently discussing the future of Find and Treat and this includes working to thoroughly evaluate how successful the programme has been so far."
Related Internet Links
The BBC is not responsible for the content of external sites.