Vanessa Feltz fined over noisy London house party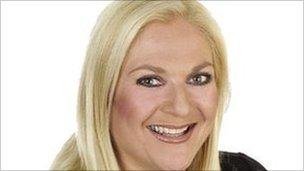 BBC radio presenter Vanessa Feltz has been ordered to pay more than £3,000 after hosting a noisy weekend party at her north-west London home.
Neighbours complained about loud music coming from the 48-year-old's St John's Wood property in March.
Officers from Westminster Council twice visited the house and served a statutory noise notice.
Feltz pleaded guilty to breaching the council's noise levels at the City of Westminster Magistrates' Court.
She was fined £1,500 for twice breaching the peace and ordered to pay the council's costs of around £1,700.
The judge also ordered Feltz, who has a radio show on BBC London, to pay an additional £15 per victim.
The council said noise patrol officers visited the home first on the afternoon of 27 March and again on the morning of 28 March in response to complaints from neighbours.
Andy Ralph, licensing manager at Westminster City Council, said: "All our residents have a right to a reasonable level of peace and quiet."
Related Internet Links
The BBC is not responsible for the content of external sites.