Metropolitan Police racism report is over budget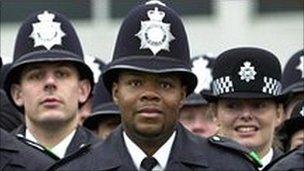 An inquiry into efforts to tackle racism in the Metropolitan Police (Met) ran substantially over budget, it has been revealed.
In 2008 London Mayor Boris Johnson commissioned the probe, saying it would cost less than £100,000. But the cost is now expected to exceed £170,000.
It comes as the Met looks at ways of trying to reduce costs, with less hours of policing a possibility.
The Metropolitan Police Authority (MPA) admitted it underestimated costs.
The figures were revealed after an inquiry by the Press Association.
An MPA spokesman said: "While the original terms of reference for the inquiry stated that costs were unlikely to exceed £100,000, this did not include MPA staff costs.
"It is also true to say that the panel underestimated the amount of evidence, both oral and written, that would be submitted."
The race and faith inquiry was published on the fifth anniversary of the 2005 London bombings.
It was the latest in a string of probes since the 1993 Stephen Lawrence murder, found that the term "institutional racism" had become a barrier to reform at the Metropolitan Police.
Its authors said the term - used by Sir William Macpherson in 1999 in his report into the killing - was a "millstone around the neck" of the Met.
Related Internet Links
The BBC is not responsible for the content of external sites.