Second union backs London Underground strike over jobs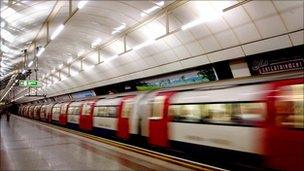 Members of a second union have voted to go on strike over proposed job cuts on the London Underground.
The Transport Salaried Staffs Association (TSSA) said its workers voted 3-1 in favour of industrial action, likely to go ahead next month.
Last week the Rail Maritime and Transport (RMT) union voted to go on strike at plans to cut 800 jobs in ticket offices across the network.
London Underground (LU) called on TSSA to shelve its threat of strike action.
TSSA's leader Gerry Doherty and RMT general secretary Bob Crow are expected to meet and announce the strike dates on Tuesday.
Mr Doherty said: "These cuts are being driven by the government as much as by Boris so our battle is with Downing Street as much as TfL.
"We want to serve notice on David Cameron that we are not going to sit idly by while he starts cutting jobs and services in London in the run-up to the Olympic Games."
The TSSA said its members voted by 72% in favour of strike action and about 88% backed the call for action short of a strike.
But LU said that only about 384 of the union's 1,097 members voted in favour of a walkout - about 35%.
Howard Collins, LU's chief operating officer, said: "All our stations will continue to be staffed at all times and all stations with a ticket office will continue to have one.
"Safety will never be compromised. However, we need to change and make sure we have the most efficient organisation possible and to deliver the best possible value for our customers and taxpayers.
"Just one in 20 Tube journeys now starts with a ticket office transaction. We've also made clear that our proposals will be delivered with no compulsory redundancies, and we remain available at all times to speak with union representatives."