Olympic diver Blake Aldridge cleared of shop attack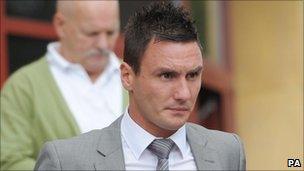 Olympic diver Blake Aldridge has been cleared of attacking a supermarket security guard in south London.
Mr Aldridge, 28, who competed in the 10-metre synchronised dive in the 2008 Olympics, spent just nine minutes in the dock at Bromley Magistrates' Court.
He had denied attacking a security guard at a Tesco supermarket in Croydon Road, Beckenham in February.
He said the charge had "ruined my reputation and credibility" but he hoped he could "go on with his career".
The diver came eighth in the 10-metre synchronised dive at the Beijing Olympics with the then 14-year-old Tom Daley.
In court, he spoke only to confirm his name, date of birth and address.
The charge against him was dismissed because of lack of evidence.
"I feel no different now to when I was charged - as far I was concerned I was innocent the whole time," he said after the hearing.
"It has ruined my reputation and credibility.
"Hopefully now I can do something positive and go on with my career."
Mr Aldridge, who hopes to compete at the London 2012 Olympics, added: "It has had a massive knock-on effect."
"I used to work for a company going in to schools nationwide encouraging kids in to sport, but once this got out in the press two schools dropped me because it was like I was not appropriate," he said.
"I feel that for the whole time this has been going on I have been treated like I was guilty but hopefully now I can go back in to schools and try to inspire the children."
He has no plans to compete in this year's Commonwealth Games, but of London 2012 he said: "I want to take part in it and hopefully I will qualify."
Related Internet Links
The BBC is not responsible for the content of external sites.