Man, 90, dies after £40 robbery at London home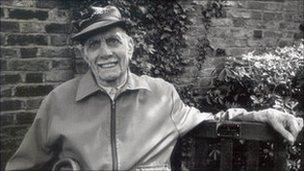 The family of a 90-year-old World War II veteran who died after being violently robbed in his home have appealed for help to catch his killer.
Geoffrey Bacon was ambushed at the doorstep of his flat in Camberwell, south London, on 26 April.
The widower suffered a broken hip as his attacker ransacked his home, where he had lived for 40 years, and escaped with just £40 and his bus pass.
Mr Bacon spent 11 weeks in hospital recovering before dying on 5 August.
The pensioner was a well-known and liked character in the area who once worked as a driver for US General Dwight Eisenhower.
The attack took place after he returned to his flat after visiting the shops.
As he entered his home, he was violently pushed to the floor by a man who punched him in the face and demanded money.
Mr Bacon was left banging the floor of his hallway with his walking stick for half an hour to raise the alarm.
A post-mortem examination found he died as a direct result of the attack.
Mr Bacon's son, Philip Bacon and his daughter-in-law, Jean, both 63, from Whitstable, in Kent, said they were shocked anyone could target someone so frail.
"How could anyone do that to a poor old chap?" Philip Bacon asked.
"If he had asked my dad he would have given him the money."
Mrs Bacon said: "He couldn't understand why someone would do what they did to him."
Police are searching for a light-skinned black man, aged between 30 and 40.
Det Insp Richard Beadle said a reward of £20,000 was on offer for information that led to a conviction.
"Geoff was the epitome of the London man," he said.
"He loved Camberwell and suddenly that life long feeling was taken away."
Related Internet Links
The BBC is not responsible for the content of external sites.