Trafalgar Square fourth plinth candidates unveiled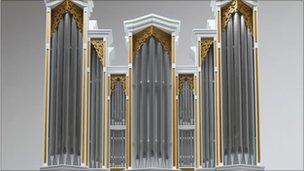 A Battenberg cake, a blue cockerel and an organ-shaped cashpoint are among the six works in the running for a place on the fourth plinth at Trafalgar Square.
A mountainscape, a boy on a rocking horse and a replica of Sir George White's statue embellished with charms and jewels are the others in the race.
The models are on display in St Martin in the Fields church near the square.
The winning artwork will be announced early next year and will replace Nelson's Ship in a Bottle in 2012.
The artworks will be on display for the public until 31 October.
London artist Brian Griffiths' Battenberg - invented in 1884 for the marriage of Queen Victoria's granddaughter, Princess Victoria of Hesse, to Prince Louis of Battenberg - portrays the influence of the Victorian era on modern Britain.
Edinburgh-born Hew Locke's interpretation of Sikandar - as Alexander the Great is known in Urdu - will see a replica of the statue of Field Marshal Sir George White in Portland Place, embellished with medals, jewels, sabres and charms.
The artwork looks into the idea of a hero and heroism and remembers troops in Afghanistan.
A pipe organ which will play when people use a cashpoint installed in the plinth is the idea of American artist Jennifer Allora and Guillermo Calzadilla from Cuba. The pipes will play as people tap numbers into the keyboard.
German artist Katharina Fritsch's idea of a huge cockerel in ultramarine blue is aimed at injecting colour into the square.
The surreal bird represents awakening, regeneration and strength, the artist said.
The elevated mountainscape, titled It's Never Too Late And You Can't Go Back, by German artist Mariele Neudecker has Britain's outline displayed on its base.
The mountains on top stand for glory and monumentality while the reverse stands for fragility and human emotions.
The boy in his rocking horse represents hope for the future and growing up in a square which charts Britain's military past.
The work, by Danish artist Michael Elmgreen and Norwegian Ingar Dragset, is titled Powerless Structures.
Ekow Eshun, chairman of the Fourth Plinth Commissioning Group, said: "All good art stimulates debate. We hope that the public will enjoy the exhibition and will share their thoughts with us."
The plinth, designed by Sir Charles Barry in 1841, remained empty until 1998 when it became the home for contemporary sculptures, including Marc Quinn's Alison Lapper Pregnant in 2005 and Anthony Gormley's One and Other in 2009.
Related Internet Links
The BBC is not responsible for the content of external sites.