Cultural Olympiad 'in good hands', says Kerry Michael
By Dave Lee
BBC London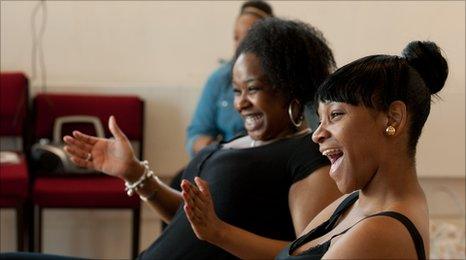 The Theatre Royal Stratford East is certainly no stranger to change.
Since 1884, the east London venue has been in the middle of the constantly evolving community of Newham, adapting to an audience that is statistically more diverse than any other in London.
But there has arguably been no challenge in its history that compares to the coming of the Olympic Games, and with it the prospect of being part of the Cultural Olympiad, a special series of events celebrating art and culture across the UK.
Kerry Michael has been the artistic director at Stratford since 2004. He told BBC London that he was glad that, despite a shaky start, the Olympiad is now firmly back on track.
"Now it's in some really good hands," he said, praising the work of Ruth MacKenzie, director of the Olympiad, and Tony Hall, its chairman.
"They know what the problems have been in the past, and they're very quickly shaping it into something that's tangible for all of us."
With the promise of ground-breaking cultural efforts making up a sizeable chunk of London's original bid, they cannot afford to get it wrong.
"There are some really exciting things that Ruth's cooking up," Mr Michael added.
"And if she pulls off half of them, they're going to do some really exciting, iconic stuff that will not only be about London, but about the entire UK."
As for his own theatre, which holds a maximum of 460 theatre-goers, plans have to be slightly more modest.
"We will play as much of a part in that as we can. We can't all do everything, so I think it's important to stick true to our artistic vision."
It's a vision which pledges to give voices to the voiceless - by placing them on stage.
To make that happen, the theatre has launched Open Stage, an initiative that will proactively seek out ideas and talent from the surrounding area.
"It's about reaching out to a community," explained Charlotte Handel, the project's head.
"Finding out what's concerning them, what they're interested in, what they need from you as an organisation.
"There's so many great people doing so many amazing things - we just have to bring that out."
Ms Handel is fittingly poised to do just that. Raised in Newham, she has cherished the theatre for much of her life ever since, along with her sister, she got involved in Stratford's youth theatre as a child.
She says that now the Olympics is coming to town, the community is more motivated than ever to show Newham in its best light.
"I think it's been a bit of a catalyst to make things happen faster, and for us to say 'right, let's do it now'."
As for what exactly will be produced by Open Stage, Ms Handel says it is too early to say.
"Until we ask, we're not going to know!"
People are invited to submit their ideas via a new website, and if they are taken up, can see them enacted on stage during the first six months of 2012.
Related Internet Links
The BBC is not responsible for the content of external sites.