Top maths A-level for London twins, nine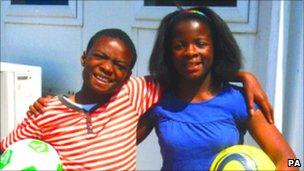 Two nine-year-olds have become the youngest twins to achieve A grades in advanced A-level maths.
State school-educated Peter and Paula Imafidon, who live in east London, triumphed in the exam, usually sat by the most capable 17 and 18 year olds.
After receiving his results, Peter voiced his disappointment at not getting an A* grade.
He said: "I scored full marks during the practice exams. I guess it's the last few questions that let me down."
Paula said: "I am very happy with the grade because I thought my calculator was broken at the beginning of the paper.
"I managed to use my head until it started working again."
Paula says she hopes to become a maths teacher.
But the number Peter is aiming for is 10 - he wants to become prime minister and take up residence in Downing Street.
Father Chris said: "There is a genius in every child, no matter the postcode.
"It does not matter the social class or background - every child will perform to their best ability and talent if given the right environment."