London firefighters to vote on industrial action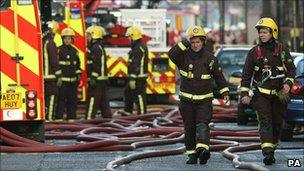 Thousands of London firefighters are to be balloted for industrial action in a row over new contracts, the Fire Brigades Union (FBU) has said.
The dispute centres on plans to scrap current working hours and forcing fire crews to sign new contracts.
The union said it will ballot about 6,000 members in the capital on action short of a strike.
The London Fire Brigade described the ballot as "totally unnecessary" and said it hoped strikes would be averted.
The brigade announced earlier this month it was starting consultations on terminating existing employment contracts and re-engaging firefighters on new start and finishing times to shifts.
The union's general secretary Matt Wrack said the "bombshell" from Commissioner Ron Dobson to terminate the existing contract had "torpedoed" negotiations on changes to shift patterns which the authority maintained had been continuing for five years.
"His threat has not been withdrawn, and we are left with no option but to ballot London's firefighters on industrial action," said Mr Wrack.
"Firefighters hate taking industrial action, and will only do so as a last resort.
"Their ethos is one of public service, but there is a limit to how much bullying they will tolerate, and the London Fire Service has overstepped that limit."
Mr Dobson said: "This is totally unnecessary.
"These changes are about doing all that we possibly can with existing resources to make Londoners safe."
He added: "It is hoped that talks will result in a conclusion to this long-term issue that will avoid the need to terminate current contracts or for any form of industrial action."
Ballot papers will go out on 27 August and must be returned by 17 September, with any action likely to start from 24 September.
Related Internet Links
The BBC is not responsible for the content of external sites.