Sean Rigg family hold vigil on anniversary of his death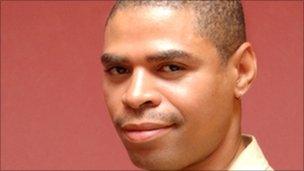 The family and friends of a mentally-ill man who died in police custody have held a vigil to mark the second anniversary of his death.
Sean Rigg, 40, of Balham, was arrested in 2008 on suspicion of assaulting an officer and taken to Brixton police station, where he died hours later.
An inquiry by the IPCC ended in February, but the findings have not yet been released.
The Metropolitan Police said it remains committed to the investigation.
Mr Rigg's family say he was "fit and healthy with no illicit drugs or alcohol found in his body at the time of his death".
He died within hours of being taken into custody.
Police said he was seen by a doctor after he fell ill, shortly before he died.
Mr Rigg's family said the talented musician suffered from schizophrenia and lived in a supervised hostel.
The vigil opposite Brixton police station and a public meeting held nearby were organised by the Sean Rigg Justice and Change Campaign.
The family's solicitor Anna Mazzola said: "It is now two years since Sean died and his family are no closer to getting answers to fundamental questions such as: why didn't the police and NHS Trust respond to pleas for help from Sean's mental health hostel?"
A spokesman for Metropolitan Police said: "Mr Rigg's death was a tragic incident and our thoughts remain with his family and loved ones."
Organisations including Inquest, the Newham Monitoring Project, United Campaign Against Police Violence (UCAPV) and Black Mental Health UK have given their support to the vigil and the campaign.
Related Internet Links
The BBC is not responsible for the content of external sites.