Corfu honeymoon balcony fall woman to return home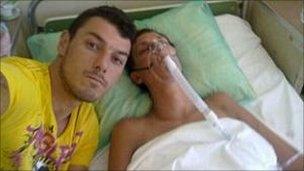 A woman who fell from a balcony on her honeymoon and fractured her spine is expected to be flown back on Sunday.
Carrie Dudbridge, 27, who works as a school secretary in Lewisham, London, fractured her spine in three places when she fell about 30ft on 15 August.
Her husband Michael had appealed for £16,000 for the flight back to the UK.
Mediaviation, which will provide the air ambulance service, said a team will fly to the hospital in Corfu, Greece, returning to Biggin Hill later.
Mrs Dudbridge fell from the first-floor balcony of their hotel room.
The couple, who got married on 31 July, thought European Health Insurance Cards (EHIC) would cover their expenses if they had an accident, but it does not cover the cost of air ambulance repatriation.
Mr Dudbridge, 29, a builder, had been able to raise a part of the money needed, but following a public appeal for funds a woman from the island offered to pay for most of their expenses.
Mike Lindley, a paramedic with Mediaviation, said: "We'll be flying out from Oxford Airport tomorrow morning, go to Corfu hospital, stabilise her and fly back in one day to Biggin Hill in Kent."
Related Internet Links
The BBC is not responsible for the content of external sites.