British students experience slum life in India
By Divya Talwar
BBC Asian Network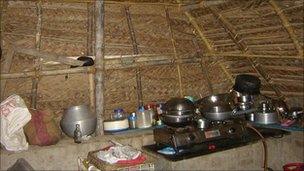 'This is my house, come inside... I live here with my mother and father, little sister, aunty and two cousins.''
Six-year-old Kritika lives in the slums of Chennai in a tiny shanty house with a makeshift roof made up of leaves which are unlikely to hold back the heavy monsoon rain.
She is showing around five teenagers from London who have traded in their home comforts to spend a week in the slums of India.
Andreas Chitty, 17, who has never been outside of Europe before the trip, said he could almost touch the ceiling of Kritika's house.
''I am quite a short guy, but I could almost touch the ceiling. There was one bed in a corner of the room and coloured mats on the floor for the rest of the family to sleep on.
"On the other side of the room there was a tiny kitchen and an area to get ready."
Vithu Satkunarasan, another one of the students, said: ''They didn't have space for a toilet in the room, so there was a bucket outside that served as a toilet for the whole family."
The 17-year-olds from Dulwich college, in south London, competed against thousands of students for the chance to go to India to help children from a local slum and learn about their lives.
More than 6,000 students from more than 150 schools took part in a fund-raising competition organised by the children's charity Wings of Hope, which helps impoverished children through education in countries like India.
The charity awarded the group of students who were most successful in their fund-raising the opportunity to go to Chennai to spend a week with children from a local slum.
Sai Raj, 17, who lives with his family in a large seven-bedroom house in London, said the trip was an eye-opener.
"At home I have every luxury I could ever want. It sounds spoilt, but if there is anything I want, I usually just have to ask my parents and they give it to me,'' he said.
''It was crazy to see how kids are living in such basic conditions. But what I found most surprising was to see how happy and content the kids were with their home and lives.
"It makes you see how good we've got it and how ungrateful we are for it.''
The students also spent the week teaching at a school in the slums which had benefited from the money they had raised. The school provides free education to local children like Kritika.
Vithu said: "Spending time at the school showed us just how much these kids value the education they are being given, unlike many of us back in the UK.
''I spoke to a 13-year-old boy who had lost his parents when he was just five. Both his mum and dad had died because of a fever they had gotten. His only family left was his old grandmother.
''We heard many stories like that over the week and it is indescribable how overwhelming it was.''
Related Internet Links
The BBC is not responsible for the content of external sites.