Demo against Greenwich Market redevelopment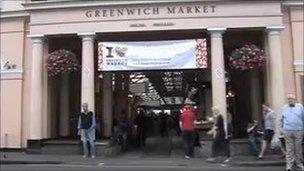 Campaigners will demonstrate outside Greenwich Market in south-east London to protest against its redevelopment.
The market, which was granted the Royal Charter in 1700, is visited by up to seven million people a year who use its 150 shops and food stalls.
Owners Greenwich Hospital Estates, which wants to modernise the space and build a 104-room hotel, said the revamp would make it "fit for the future".
Campaigners fear the changes will mean a loss of some stalls and livelihoods.
Greenwich Hospital Estates, which has owned the market since 1849, plans to build a 104-room hotel, provide office space and replace the market's canopy with a glass roof, but keep the original structure.
The food court would also be cleared and the number of stalls reduced.
Campaigner Robert Gray said: "Greenwich Market is a real place, its a real market.
"Why should every market, every street be homogenised. Greenwich is different."
Backing the campaign, councillor Maureen O'Mara said: "It does need a new roof, that's what I said a year ago, and it needs Greenwich Hospital Estates to look after the fabric of the buildings that they own.
"But an institution that helps to attract at least seven million people a year does that really need change?"
A spokesman for Greenwich Hospital Estates said they were in talks with stall holders about how many would lose their place and relocating the remainder for health and safety reasons.
He said: "We are not running the market down but trying to make it fit for the future."
English Heritage had endorsed the redevelopment, but Greenwich Council's planning board rejected the plans in August last year saying that the revamp was "out of keeping with character of the West Greenwich Conservation Area" and would be "detrimental" to local views and add to traffic congestion.
Greenwich Hospital Estates will appeal against that decision on 7 September and a public consultation will also begin.
If the plans are given the go-ahead the demolition would start in January 2013 and the market would be closed for two years.
The market's traders have collected thousands of signatures in a petition against the redevelopment.
Related Internet Links
The BBC is not responsible for the content of external sites.