Corfu honeymoon fall woman Carrie Dudbridge flies home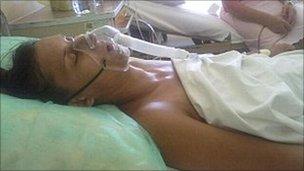 A woman who fell from a balcony while on her honeymoon in Corfu has arrived back in the UK.
Carrie Dudbridge, 27, from Lewisham, south-east London, fractured her spine in three places when she fell about 30ft on 15 August on the Greek island.
Her husband, Michael, launched an appeal to raise funds to fly her home as they did not have travel insurance.
Mrs Dudbridge has not undergone any surgery since being admitted to hospital in Corfu.
The couple had flown to Corfu with European Health Insurance Cards (EHIC) soon after their wedding on 31 July.
They thought the cards would cover their expenses if they had an accident, but they do not cover the cost of air ambulance repatriation.
Mr Dudbridge, a builder, launched an appeal for £16,000 to fly his injured wife back to the UK. The internet appeal has raised £20,000.
The primary school teacher had to be flown on a stretcher, lying flat, to ensure that two pipes which had been inserted into her chest to drain fluids in her lungs remained stable.
Mediaviation, a private air ambulance service provider, has been handling Mrs Dudbridge's repatriation to the UK.
A spokeswoman said Mrs Dudbridge had been transported by air ambulance on Sunday and was currently in one of London's hospitals.
The couple's luggage has already been sent back to the UK by courier.
Related Internet Links
The BBC is not responsible for the content of external sites.