London Underground '7 September strike date set'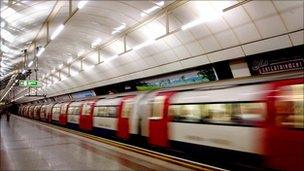 Tube workers are set to go on strike on 7 September in the first of a series of monthly walkouts in protest at 800 proposed job cuts, the BBC understands.
The Rail Maritime and Transport (RMT) union and Transport Salaried Staffs Association (TSSA) said they would take the action until plans to reduce ticket office opening hours were withdrawn.
London Underground (LU) said there would be no compulsory redundancies.
The London Chamber of Commerce said the strikes could cost the city £48m a day.
Members of both the RMT and TSSA voted in favour of industrial action over plans to reduce ticket office opening hours at stations across the network.
Most of the proposed job losses are among ticket office staff, although 50 management and administrative posts could also be axed.
Union bosses are due to meet on Wednesday to finalise the timetable for industrial action. The first 24-hour strike will begin at midnight.
LU argues widespread Oyster Card use means some ticket offices are no longer needed.
Howard Collins, LU's chief operating officer, said: "It is simply not possible to go on with a situation where some ticket offices sell fewer than 10 tickets an hour.
"We need to change, but we will do so without compromising safety, without compulsory redundancies.
"The weak mandate for strike action, which saw only around 35% of TSSA members and less than a third of RMT members voting for a walkout, should resonate with the unions' leadership."
The first strike will coincide with the first week of the new session of Parliament.
Caroline Pidgeon, leader of the Liberal Democrat London Assembly Group, said under LU's plans almost 7,500 fewer hours would be worked in ticket offices every week.
"If staff numbers are severely reduced it will become far more difficult for staff to help disabled and vulnerable customers and other people who need assistance, including visitors.
"London Underground's simplistic portrayal of many ticket offices being quiet places where few tickets are actually sold overlooks the vital service and safety that staffed ticket offices provide."
RMT general secretary Bob Crow said: "These shocking figures underline why RMT has told LU that its plan to slash 800 Tube station staff is unacceptable.
"These cuts would leave stations and platforms unstaffed and would remove the very people who are trained to deal with emergencies."
Colin Stanbridge, chief executive of the London Chamber of Commerce, said: "Each day the Underground is shut it will cost the London economy £48m and hamper the recovery of all sorts of companies still hungover from a crippling worldwide recession."