Woman hurt by masonry after Piccadilly Circus bus crash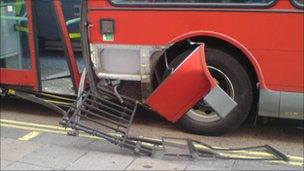 A woman has been injured by masonry which was dislodged when a double-decker bus crashed into metal railings outside a central London Tube station.
A Transport for London (TfL) spokesman said the woman, in her 50s, was by an exit to Piccadilly Circus station when the masonry hit her at about 1420 BST.
She received injuries to her arm and legs and is in a south London hospital, Metropolitan Police said.
An investigation will be carried out into what happened, TfL said.
The TfL spokesman said: "A route nine double-decker bus, operated by London United, hit the railings at exit two of Piccadilly Circus station as it turned into Piccadilly Circus."
The spokesman denied eyewitness reports that the railings fell downstairs into the station.
A lamppost fell into the entrance of the busy station, but did not seriously injure anyone going underground.
TfL is investigating why the driver did not then stop until the bus reached nearby Haymarket.
A Met spokesman said officers were called to reports of a bus "colliding with" a female pedestrian and railings outside the station.