Newham Council worker 'ran in races while off sick'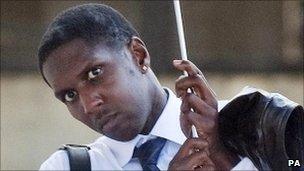 A London council worker was taking part in national athletics competitions while he was off sick from work with a bad back, a court has heard.
Matthew Thomas, 34, of East Ham, competed and held 90-minute coaching sessions for youths between November 2007 and June 2008, it is claimed.
The Newham Council payroll officer, who told bosses he fell from a ladder, was paid £13,892 while on sick leave.
Mr Thomas denies 11 counts of fraud at Inner London Crown Court.
He denies one count of fraud by failing to disclose information about his coaching work and 10 counts of fraud by false representation due to the sickness certificates he submitted to his bosses.
The court heard he raced in the Birmingham Athletic Games in February 2008 and the Surrey County Indoor Championships a month later.
He also coached youngsters through the Metropolitan Police athletics scheme before resigning from the role in June 2008, jurors were told.
Rebecca Channon, prosecuting, said Mr Thomas, who had begun working for the council in 1998, called his line manager Paula Astrella on 12 November 2007 to tell her about his fall.
"The very next day Matthew Thomas was able to work as an athletics coach on the Met-Track scheme for a 90-minute session," she added.
He regularly updated his boss about his injury but continued to race and coach, she said.
"He says his reason for participating in athletics competitions was to use the free physiotherapy," Ms Channon added.
"In his interview, he said he was having difficulty sitting down for long periods of time and his injury had little or no effect on his ability to work as an athletics coach and to participate in athletics events but would not allow him to carry out his role as a payroll officer."
Ms Astrella told the court that she became aware of Mr Thomas's athletics activities in April 2008.
"I was quite shocked," she said.
"Matthew Thomas had always presented himself as being in significant pain and I was quite shocked to see if that was the same Matthew Thomas participating in what appeared to be professional races."
Related Internet Links
The BBC is not responsible for the content of external sites.