Man caught with 55,000 euros in pants at St Pancras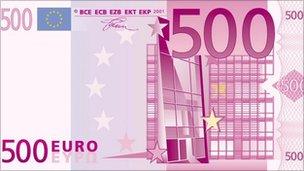 A man caught entering the UK with 55,000 euros stuffed down his pants has had the cash confiscated because he was unable to account for it.
The 32-year-old German was stopped by the UK Border Agency (UKBA) at London's St Pancras International station after arriving on a train from Brussels.
Officials found the stash of 500 euro notes - worth about £45,000 - hidden down his trousers.
Criminal activity was suspected so the money was taken. He was not arrested.
The man claimed the money was for business.
Peter Avery, of the UKBA's criminal and financial investigation directorate, said: "Officers are working around the clock at all our ports to prevent drugs, weapons and the proceeds of crime from entering or leaving the UK.
"Where we suspect cash may be linked with criminal activity, we have the power to seize it and it will only be handed back if it is later proved to be legitimate."
British banks withdrew 500 euro notes from sale in May after it emerged 90% of UK demand was linked to crime.
Crooks favour the high denomination notes as they make it easier to smuggle high sums.
Related Internet Links
The BBC is not responsible for the content of external sites.