Londoners urged to back dangerous dogs pledge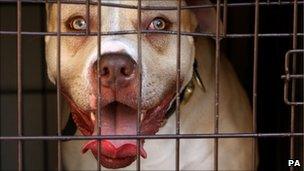 Londoners are being urged to back a pledge which calls on the government to do more to tackle dangerous dogs.
The Deputy Mayor for Policing, Kit Malthouse, wants a new law specifically targeting irresponsible owners and dogs being used as weapons.
The pledge describes it as an "urgent and worrying issue that blights many neighbourhoods and parks".
Mr Malthouse wants tougher punishments for owners whose dogs are dangerously out of control or cause injury.
The move comes after a coalition of animal charities, unions and law enforcement agencies said current legislation was "inadequate".
Mr Malthouse's Dangerous Dog Pledge states: "Irresponsible dog ownership and dogs being used as weapons is an urgent and worrying issue that blights many neighbourhoods and parks.
"I back City Hall in calling upon the government to take immediate action to deal with the problem."
Mr Malthouse wants those convicted of crimes where certain breeds of dogs are used as weapons to face the same penalties as those caught carrying a knife.
He also wants the law to be extended to allow the police to seize a dog and prosecute an owner when an attack takes place on private land.
Backing the pledge is Barrie Hopcroft who was injured when his guide dog was attacked by a Staffordshire terrier-type dog.
He needed 24 stitches after trying to protect his guide dog during the ordeal in Walthamstow, east London, last July.
His eight-year-old Labrador-retriever Bailey suffered four puncture wounds to his neck and shoulder while Mr Hopcroft suffered hand injuries.
Mr Hopcroft said it was about being a responsible dog owner.
"Before I lost my sight I used to own a German shepherd that I rescued and she didn't like children.
"I used to keep my dog on a lead and use a muzzle. If I did that I would like other people to do that if they know their dog is dangerous."
Related Internet Links
The BBC is not responsible for the content of external sites.