South London ambulance drivers vote for strike action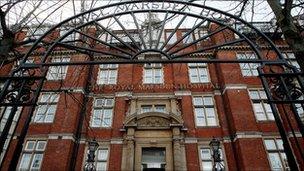 Non-emergency London ambulance drivers have voted to strike over plans to privatise work, the GMB union has said.
Eighty drivers would be affected if South London Healthcare Trust gives the contract to Savoy Ventures, it said.
The workers would not lose their jobs but could lose London weighting, as the firm is based in Kent, and would see "dramatic" pension cuts, the GMB said.
The NHS Trust said it wants to give its patients "the best possible service at the best value".
The NHS Trust and the union will meet on Thursday to try to avert the strike.
The workers, who act as both drivers and escorts for patients to and from their hospital appointments, are directly employed by the London Ambulance Service, which had also bid for the patient transport service contract.
GMB official Rob Macey said: "GMB members have now voted in an official ballot for strike action to prevent Savoy Ventures being awarded this contract and to get cast-iron assurances that the rules on procurement and staff transfers will be adhered to.
"If there is no satisfactory outcome from the talks, the strikes will go ahead."
A spokeswoman for the NHS Trust said: "The Trust has not yet finalised a contract with a new supplier for non-emergency patient transport.
"As a hospital trust, our intention is to get the best possible hospital service for our patients and at the best value so that we can invest more on front-line patient care."
The patient transport contract covers staff working out of Greenwich, Barnhurst and Bromley ambulance stations, who attend to patients living in south-east London, including Woolwich, Barnhurst, Erith, Sidcup, Welling, Lewisham, Farnborough and Biggin Hill.
They transport patients to and from Guy's and St Thomas' Hospital, Kings College Hospital, Lewisham and Royal Marsden Hospitals.
The Trust has said Savoy Ventures is its preferred supplier as the company already serves other hospitals in the south-east London area.