Surgeon's support for 'Bloodgate' doctor Wendy Chapman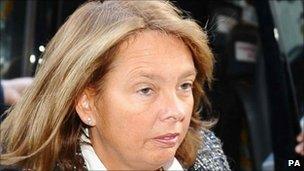 A leading surgeon has suggested a medic who cut the lip of a player so he could fake injury was not as much to blame as the side's management.
Dr Wendy Chapman could be banned from her profession by the General Medical Council after the "Bloodgate" incident.
While playing Leinster, Harlequins' Tom Williams bit a blood capsule to feign injury, thus allowing a substitution. Dr Chapman cut him to enhance the ruse.
But Leinster's doctor Professor Arthur Tanner said her role was less crucial.
Harlequins were losing 6-5 in the 2009 Heineken Cup quarter-final when Williams bit the fake blood capsule.
The deceit allowed a "blood replacement", which let a substituted specialist kicker back on to the field in the closing minutes.
Prof Tanner - Leinster's match-day doctor during the clash - was appearing at the GMC fitness to practise hearing.
Asked if the Leinster players condemned Dr Chapman, he said: "It would be fair to say if you speak to them individually they would say her role was the least important.
"They would blame entirely the [Harlequins] coaching staff for what happened."
Prof Tanner continued: "You had a player who knew he had been 'sussed'.
"The only way he can see out was to inflict the injury he had been feigning.
"It would be a nightmare."
Prof Tanner was asked why he gave a newspaper interview sympathising with Dr Chapman.
He replied: "Her career and reputation has suffered a lot more. Rugby will get over it.
"The public was dismayed about the cover-up by Dr Chapman. I do not see how this puts at risk public safety.
On Tuesday Dr Chapman told the GMC panel she was "very ashamed" of her actions.
The doctor has admitted most of the charges brought by the GMC, which says her conduct was likely to bring the profession into disrepute and was dishonest.
Dr Chapman, an accident and emergency consultant, was suspended on no pay from Maidstone Hospital in Kent following the incident.
She cannot work until the outcome of the Manchester hearing, where she could be struck off.
The hearing has been adjourned until Thursday morning.
Harlequins' director of rugby Dean Richards was banned for three years by the European Rugby Council (ERC) and the club was fined £259,000.
It emerged he had ordered fake blood injuries on four other occasions and orchestrated the "Bloodgate" cover-up.
Williams was initially barred from the game for 12 months, a ban reduced to four months after he admitted using the capsule.
The ERC cleared Dr Chapman of any part in planning the blood capsule incident.
Related Internet Links
The BBC is not responsible for the content of external sites.