More tests due on body of MI6 worker Gareth Williams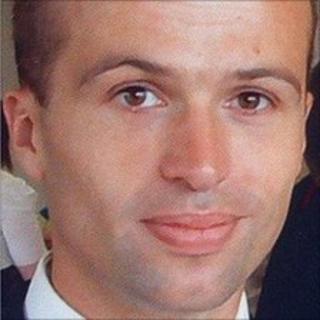 Further tests are to be carried out on the body of an MI6 worker found in a holdall in the bath at his central London flat.
The body of Gareth Williams, 30, from Anglesey, was found in the Pimlico flat on Monday afternoon. Police believe he may have been murdered two weeks ago.
A post-mortem examination carried out on Wednesday proved inconclusive.
The Metropolitan Police said more tests, including toxicological analysis of his blood, would be conducted.
The force is treating the death as "suspicious and unexplained".
The body was discovered when officers broke into the flat in Alderney Street after colleagues said Mr Williams had not been seen for at least 10 days.
Officers went to the flat after attempts by the Foreign Office to locate him via his former landlady failed.
'Peculiarly memorable laugh'
The post-mortem examination by a Home Office pathologist failed to determine a cause of death, although it is believed he had not been stabbed.
Originally from Holyhead, north Wales, Mr Williams was on secondment to MI6 from his job as a communications officer at the GCHQ "listening post" in Cheltenham, Gloucestershire.
A "maths genius", Mr Williams graduated with a first class degree in maths from Bangor University aged 17.
Secondary school maths teacher Geraint Williams said of his former pupil: "He was probably not the best mathematician I have seen, but the best logician."
Fellow cyclists have also paid tribute to Mr Williams, who often took part in road races and time trials.
One wrote on an internet forum: "People sometimes thought he was dense because he spoke rather slowly and sometimes seemed distracted. How wrong can you get?
"A pretty quick junior, and a very nice quietly-spoken young man."
A cyclist at Cambridge University's bicycle club, where Mr Williams was the "star rider", said: "He seemed a shy chap, but had a peculiarly memorable laugh and smile that are haunting me somewhat today."
Personal life
Officers who entered the Pimlico flat, which is about half a mile from the headquarters of the Secret Intelligence Service (MI6) on the banks of the Thames, discovered a mobile phone and several mobile phone Sim cards laid out.
On Wednesday, Mr Williams' uncle, William Hughes, told BBC News that his nephew never spoke about his work but he said he was "very, very talented".
Mr Williams' father Ian, who works at Wylfa nuclear power station and lives in Valley, Anglesey, went straight to London after being told of the death, with his wife and daughter Ceri, who lives near Wrexham.
The police are understood to be looking into aspects of Mr Williams' personal life.
It is not known what work he was doing for MI6.
After it emerged he had been working for the intelligence services, a spokesman for the British Foreign and Commonwealth Office, which is handling press inquiries for MI6, said: "This is a police matter.
"It is long-standing Her Majesty's Government policy not to confirm or deny any individual working for the intelligence agencies."