London street theatre act tackles fraud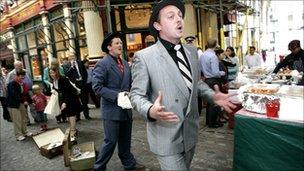 Street theatre is being used to raise awareness of tricks and scams used by fraudsters.
Comedy duo Jim and Bert have been using their act in London to demonstrate how unsuspecting victims are targeted.
It is part of the City of London Police's Wise Up campaign which is designed to combat fraud.
Det Supt Bob Wishart said using the "light-hearted approach" to send out a serious fraud prevention message had proved a real hit with the crowds.
According to City of London Police fraud costs the UK £30bn every year and, collectively, individuals lose £3.5bn annually.
Det Supt Wishart said: "As the national lead force for fraud we see many devastating cases where people who aren't wise to the manipulative tricks criminals use, have been defrauded.
"They have had their lives destroyed, often losing life savings, homes and even livelihoods."
Jim and Bert were due to put on their latest performance at Leadenhall Market in the City on Thursday.
Related Internet Links
The BBC is not responsible for the content of external sites.