101 people arrested ahead of Notting Hill Carnival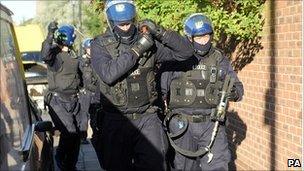 Police have arrested 101 people in a crackdown on troublemakers ahead of the Notting Hill Carnival.
Raids have taken place throughout August which have led to several weapons being seized, including knives and firearms.
Officers from Operation Razorback also confiscated £64,000 in cash, along with drugs including crack cocaine and cannabis.
The west London carnival takes place on 29 and 30 August.
Ch Insp Jo Edwards said: "We've managed to target a large number of known troublemakers and have taken large quantities of drugs and weapons off the streets.
"Our message is still 'come to carnival to have fun and enjoy all the wonderful sights and sounds, but don't even think about coming to cause trouble'."
Related Internet Links
The BBC is not responsible for the content of external sites.