Woman leaves pillow case with 4ft boa at Barnet home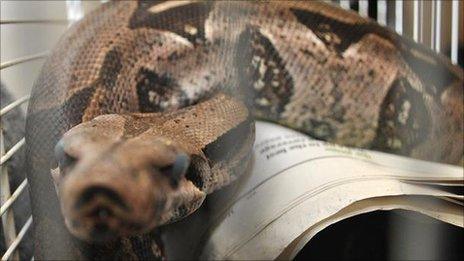 A woman who left a pillow case containing a 4ft-long snake at a north London home is being sought by police.
The mystery caller knocked on the door in Cricklewood, Barnet, at about 0100 BST and asked for "Andrew". She then walked away leaving a pillow case.
When the pillow case started moving, officers were called and found a South American boa inside.
The snake, named Kojak by officers, is said to be "friendly" and appears to be used to being handled, police said.
Metropolitan Police said the reptile was healthy but might be about to shed its skin.
Kojak was kept in the media office at Colindale Police Station for a few hours before a veterinary nurse from London Zoo collected it.
Officers are trying to trace the owner of the reptile. The woman who left the snake has been described as a white woman aged about 25.
Related Internet Links
The BBC is not responsible for the content of external sites.