Off sick Newham Council worker 'raced for free physio'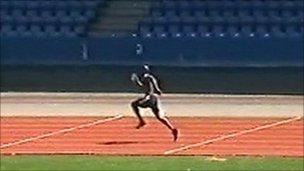 An east London council worker has told a court he took part in athletics competitions while off sick from work to get "free physio" at the events.
Matthew Thomas, 34, of East Ham, took seven months off work at Newham Council, between November 2007 and June 2008 after falling off a ladder.
But Mr Thomas, who denies 11 counts of fraud, said it did not stop him from running and training youngsters as it helped him "monitor my rehabilitation".
He was paid £13,892 during sick leave.
Inner London Crown Court heard the payroll officer raced in the Birmingham Athletic Games in February 2008 and the Surrey County Indoor Championships a month later.
He was also paid £50 to coach youngsters for 90 minutes through a Metropolitan Police athletics scheme. He resigned from the council job in June 2008.
The jury saw footage of him running and coaching at Croydon Athletics Track while off work.
Giving evidence, he said: "In most races at that time they have physiotherapy, they get free physio.
"I had to use it as a way of monitoring where I was at in terms of my rehabilitation.
"Sitting and running is not the same thing if something is going to cause pain and discomfort and something else alleviates it.
"I was in pain when I was sitting down. The way I saw it, I would be in pain on and off for eight hours had I gone back to work."
He said he hurt his side when he fell from the ladder in November 2007, but it worsened the next day when a sneeze triggered off a nerve pain.
Explaining why he did not mention his athletic activities to his manager during meetings, he said: "I didn't think that my life outside work... I didn't think the two went together."
He described athletics, which he took up in 2000, as his "main interest" and "addiction".
The council gave him four weeks off to compete in the 2006 Commonwealth Games in Australia representing St Lucia, the jury heard.
He denies one count of fraud by failing to disclose information about his coaching work and 10 counts of fraud by false representation due to the sickness certificates he submitted to his bosses.
Related Internet Links
The BBC is not responsible for the content of external sites.