Walthamstow Greyhound Stadium bid is rejected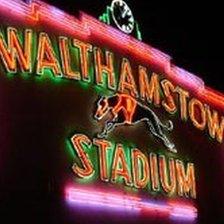 A bid to buy the historic Walthamstow Stadium and reinstate greyhound racing has been turned down by its owners.
Businessman and greyhound enthusiast Bob Morton had bid almost £9m for the track, promising to host the sport in addition to building flats.
But owners London and Quadrant, a housing association, said Mr Morton's offer did not meet the stadium's current market value.
The last race at the east London venue was held in 2008.
Mr Morton, president of the Greyhound Owners, Breeders and Trainers Association, said: "It is a sad decision - very disappointing.
"It is quite obvious they don't want greyhound racing there.
"They brought the stadium in 2008, at the height of the market, and they don't want to make a loss on it."
London and Quadrant is thought to have paid about £18m for the venue.
That price was based on a pre-credit crunch valuation and Mr Morton said it also assumed all the venue would be used for flats, which are more profitable than greyhound racing.
Mr Morton dismissed the housing associations concerns about funding, adding: "I am on the [Sunday Times] Rich List - I can afford it."
The developer's bid is backed by the Save Our Stow campaign, which is calling for greyhound racing to return to the track.
Steve Yianni of London and Quadrant said: "The offer failed to provide sufficient assurances on funding and planning viability and proposed a purchase value well short of the current market valuation.
"We have always said we would not stand in the way of anyone who wanted to make an offer.
"This is the first serious offer, but in its present form fails to present a viable consideration."
Mr Morton told BBC London the bid was his final offer as any higher sum would not be financially viable.
"I am a businessman at the end of the day," he added.
Related Internet Links
The BBC is not responsible for the content of external sites.