Notting Hill Carnival gets under way in west London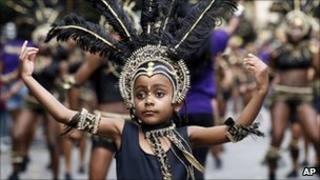 Hundreds of thousands of people braved afternoon rain showers to take to the streets of west London as the Notting Hill Carnival got under way.
Dancers in colourful costumes began parading along the three-and-a-half-mile route at 0900 BST.
Floats and dancers have been partying to music from more than 40 independent sound systems.
Police said there had been 55 arrests for public order, drugs and drink-driving offences.
London Ambulance Service said it treated 181 people for minor injuries and 26 people were taken to hospital for treatment.
The carnival, Europe's biggest street festival, is the climax of months of preparation.
The event began, on Children's Day, with the customary paint, flour and egg fight.
Ancil Barclay, director of Notting Hill Carnival, said: "It's been excellent. We've had some exceptional costumes on display today. There was a bit of rain earlier, but it has not stopped the flow of floats coming through the judging point and the crowds of spectators.
"The atmosphere has been fantastic."
The carnival began in 1966 and is held every August Bank Holiday.
Mayor of London Boris Johnson said: "This weekend London will be filled with visitors from across the world eager to have some fun at the ultimate free street party.
"Our legendary Notting Hill Carnival highlights the richness of Caribbean culture and is the perfect summer celebration.
"As a former Ladbroke Grove resident, I feel a particular affinity to the pulsating steel pans and colourful floats as simply nothing rivals the spirit and energy of carnival."
'Not being complacent'
The policing operation is costing more than £6m.
An estimated 5,000 officers were patrolling the event both on Sunday and Monday.
Police arrested 101 people in a crackdown on troublemakers ahead of the Notting Hill Carnival.
Raids which took place throughout August led to several weapons being seized, including knives and firearms.
Officers from Operation Razorback also confiscated £64,000 in cash, along with drugs including crack cocaine and cannabis.
Ch Insp Jo Edwards said: "It is early days. It's the first day, a traditionally quieter day, but we are not being complacent.
"We are expecting a busier day tomorrow and we have measures in place to prepare for it.
"We will be continuing our operations targeting known troublemakers who use the carnival as a cover to settle old scores and commit acts of crime."
The BBC weather centre said the capital was expected to remain mostly dry on Monday.