Notting Hill Carnival 2010 draws to a sunny close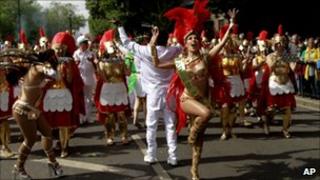 Notting Hill Carnival has drawn to a close - with revellers enjoying a late spell of sunshine on Monday evening.
The clouds and rain that marred Sunday's event were banished, to the delight of crowds.
Police made a total of 230 arrests for a variety of offences over the two days of the carnival, and British Transport Police arrested another 34.
The incidents included two stabbings, but police said overall the festival went "smoothly and to plan".
Two pit bull-type dogs and one Staffordshire-type animal were seized by officers.
Ch Insp Jo Edwards said the event was "marred by a small element".
She said: "Most carnival-goers had a fantastic time, with the large part of the Bank Holiday weekend passing without serious incident.
"For the fourth year there were no firearms incidents and reported crime fell by more than 31% compared to the same stage last year.
"However, as we have seen in previous years, last night saw some people determined to try and ruin it for others who simply wanted to enjoy a day out."
Chicken and rum
The arrests included 40 for possession of cannabis, 19 for possession of Class A drugs, and 26 for public order offences.
Four men were arrested in Bayswater Road, near the carnival area, after officers found a firearm in their car.
The two stabbings resulted in minor injuries. One person was arrested on suspicion of causing actual bodily harm.
Police in Luton seized three kilograms of cannabis from two cars stopped on the way to the carnival.
London Ambulance Service said it dealt with 189 carnival casualties on Monday, 20 of whom were taken to hospital, with the rest being minor injuries.
Organisers estimate five tonnes of chicken and 25,000 bottles of rum were consumed at this year's event.
Some 16,000 tracks were played at 41 different sound systems located within the carnival area.
The first Notting Hill Carnival was held in 1964.