WWII victims remembered at London's Polish War Memorial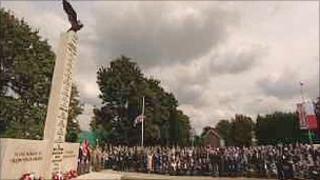 Dozens of war veterans have attended a ceremony in west London remembering the 1,903 members of the Polish Air Force who were killed during World War II.
The service was held in South Ruislip at the Polish War Memorial, which has been restored for the 70th anniversary of the Battle of Britain.
The monument, located near to the A40, was erected in 1948.
The last remaining WWII squadron commander in Britain, Franciszek Kornicki, was among those present.
He said it was a "tremendously important" day.
"This place is a holy place for every Pole who is here today. It's charged with history.
"It tells you there were 14 squadrons fighting in Great Britain, alongside the mighty Royal Air Force, and four bombers and 10 fighters.
"They flew over 8,500 combat missions."
Sqn Cdr Kornicki described his fellow air crew as "brothers".
"We rejoiced together when there was occasion, and we mourned our friends, so this is reliving it all again, being here today."
A flypast also took place during the ceremony, which was attended by guests including the Duke of Kent.
"Each year we remember 1,900 Polish aircrew and ground staff who gave their lives in the war," said Eugeniusz Borysiuk, chairman of the Polish Air Force Association.
"This memorial, now beautifully restored, is a fitting tribute to their sacrifice, and marks the continuing bond between the local community and the veterans and descendants of those who fought for your freedom and ours."