'Thousands' face temporary school classrooms in London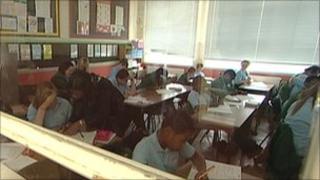 An estimated 5,000 primary school pupils will be taught in temporary classrooms in London when the term starts this week, it has been claimed.
London Councils said it feared children taking classes in portable buildings would suffer academically.
And hundreds of millions of pounds were needed to tackle the issue, it added.
The government said had already given London's boroughs an extra £140m to provide additional places and pledged it would not ignore the problem.
London Councils, which represents the interests of the city's 33 local authorities, said many families were opting not to leave inner London because of the recession, meaning more school places had to be found.
Rising standards in state schools also increased the pressure for places, it added.
Steve Reed, who speaks for the organisation on children and young people, said they had about 5,000 children sitting in portable cabins.
He added: "We know from recent experience that when we invest in good-quality buildings, children do better, and if we don't bring the money in for this generation of young children, then they're not going to perform as well as they should be."
London Councils has predicted an extra 28,000 places will be needed in London over the next five years to ensure every five-year-old has a place in a classroom, at a cost of £480m.
One parent - Alison Emmett from Walthamstow, east London, said her daughter had been rejected by the seven schools nearest to her home.
"It's enormously stressful," Mrs Emmett said.
She said she had "a personal concern that my daughter doesn't have a primary school place" and an "overall concern that something has to be done to fix the system, otherwise this situation, where parents and children are left in misery, is going to carry on for year after year after year".
Her local authority, Waltham Forest Council, said it had created an additional 480 places for pupils this term, however, and promised every child in the borough would be offered a place somewhere.