Thames Gateway 'key to economic recovery', says report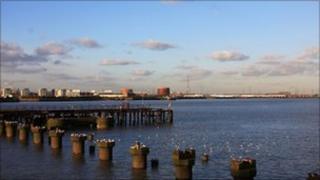 Councils and business leaders have urged the government not to cut funding from major transport infrastructure projects in the Thames Gateway.
The Thames Gateway London Partnership said that projects planned for the area should not be hit by government spending cuts.
Its Staying on Track report said that cuts to projects such as Crossrail would be "a damaging false economy".
The Thames Gateway area stretches from east London into Kent and Essex.
The report called for Crossrail to be completed in its entirety and on time.
Crossrail 'doubts'
It is proposed that the 72-mile (116km) route, due to begin service by 2017, will connect Maidenhead, Berkshire, with Shenfield in Essex via the West End and Canary Wharf, with a link to Heathrow Airport.
In the report, Shadow Transport Secretary Sadiq Khan raised concerns that "doubts are emerging about whether Crossrail will survive in its entirety".
In May, London Mayor Boris Johnson said the branch of the line stretching from Canary Wharf to Abbey Wood, in south-east London, could be threatened under the new government.
But Transport Secretary Theresa Villiers said the government was "absolutely clear that investment in our transport infrastructure is essential for economic growth".
The report also called on the government to invest in a High Speed Two (HS2) railway link to Stratford station, in east London, and to invest in major river crossings in the region.