Thousands affected by burst water main in west London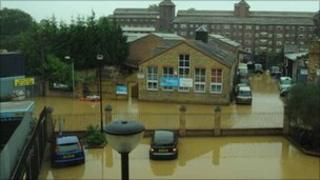 Thousands of people in west London were left without water and about 20 shops were flooded when a mains pipe burst.
Supplies to homes and businesses in Ealing, Shepherd's Bush and Twickenham were affected when the pipe in London Road, Brentford, broke at about 0600 BST.
Water supplies had been returned to properties by 1400 BST.
A Thames Water spokesman said it was the same pipe that had burst in August flooding up to 60 homes.
"We understand the customers' frustration if a pipe keeps bursting and apologise to customers," he said.
Replacing the pipe was "being considered" but the spokesman could not confirm it definitely would be replaced.
The firm said work to fix the pipe could take 48 hours and repairs to the road surface could take up to a week.
Residents and businesses will be compensated for any damage, Thames Water confirmed.
Engineers rerouted water into the area from other parts of the network but many cars were left stranded in the deluge.