Jet and passenger plane nearly collided over London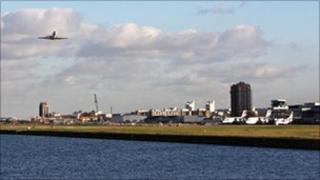 A business jet came close to a mid-air collision with a Turkish Airlines passenger plane after taking off from London City Airport, a report has said.
The Air Accidents Investigation Branch (AAIB) study described the incident over London as "serious".
The Citation 525 jet was about 100ft to 200ft below and half-a-mile away from the Boeing 777 passenger plane, heading to Heathrow with 232 people on board.
The incident happened on 27 July 2009 at about 4,000ft.
The report said the control tower at London City Airport had cleared the German-owned business jet to climb to 3,000ft but when the flight crew acknowledged the instruction, they said they would be climbing to 4,000ft.
This instruction from the plane - a "readback" mistake - was not noticed by the controller at the tower, the AAIB said.
'Commands not followed'
Meanwhile, the Turkish flight had been cleared to descend to 4,000ft as it approached Heathrow Airport in west London.
If the planes had come close during bad weather "the only barrier to a potential mid-air collision" would have been built-in collision-avoidance systems as the aircraft would not have been able to see each other, the AAIB said.
The report found that when the aircraft came close, the Turkish flight crew had not "followed the commands" of three on-board collision-avoidance warnings and the Citation jet did not even have the equipment, known as TCAS II.
It was a pilot sitting on the observer seat of the passenger plane who saw the business jet, carrying two crew members and one passenger, "pass west of them at an estimated 100 to 200ft below", the report said.
In his account the Citation's captain said he had the passenger plane in sight "all the time" and had at first thought that his jet would be "well above" it.
Procedures changed
The AAIB recommended that the TCAS II equipment should be made mandatory for planes flying in the London area.
It also suggested instructions from the control tower at London City Airport be given separately from the rest of the take-off commands and be followed by a separate response from the crew.
A spokesman for the Civil Aviation Authority said: "The CAA, London City Airport and (air traffic control company) Nats have already acted to change the documented procedures used by aircraft and air traffic control in the London City Airport area to remove factors that may have contributed to this incident.
"This incident was assessed by the independent UK Airprox (aircraft proximity) Board as having 'no risk of collision' and serious airprox incidents are extremely rare."
Calling for a "fail-safe" co-ordination between Heathrow and London City Airport, Captain Martin Alder, of the British Airline Pilots Association (Balpa), added: "It could best be achieved by redrawing the London City airport departures or alternatively not permitting London City to act independently."