Work to fix west London water main continues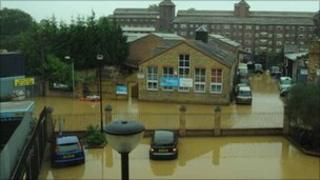 Engineers are continuing to work to fix a water main in west London that burst for the second time in a month.
About 20 shops were flooded and thousands of properties were without water supplies when the pipe in Brentford broke on Wednesday morning.
Supplies to homes and businesses in Ealing, Shepherd's Bush and Twickenham were restored in the afternoon.
Thames Water said replacing the pipe, which burst in August flooding up to 60 homes, was being considered.
Water poured into London Road when the pipe burst at about 0600 BST.
The road remains closed between the junction of Commerce Road and Half Acre.
A spokesman for the water supplier said: "Once again we apologise to customers for the disruption.
"No decision has yet been made as to whether the pipe will be replaced but clearly it's not right the people of Brentford keep being inconvenienced."
He said the pipe should be fixed by Friday and repairs to the road surface could take up to a week.