Talks over Billingsgate Fish Market by-law change plan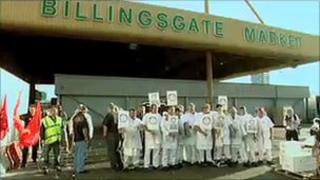 Officials are due to visit Billingsgate Fish Market to decide whether to make changes to the way it is run.
They are expected to tour the market and meet porters who fear plans to revoke their licences will lead to a loss of jobs and threaten the market.
The City of London Corporation, which operates the market, has said licensing in the 1876 by-law is out-of-date.
Officials from the union Unite will put the porters' concerns directly to members of the markets committee.
The union maintains the highly-trained and licensed porters ensure the smooth running of the market and have a strong local connection with the community.
Good character
Jennie Formby, of Unite, said it would be made clear to the committee "they will jeopardise this historic market if they go ahead with the proposals to revoke the by-laws which govern the running of the market".
She said: "The Unite campaign to save the market has gained the support of much of the local community as well as the customers and merchants of Billingsgate.
"The markets committee who are meeting on Thursday must now hear the concerns of those who care deeply about the market."
According to the corporation the bye-law relevant to porters permits the superintendent to license anyone of "good character and fitness" to be a porter.
It said they were "obsolete, out-of-date, irrelevant in modern times" and do not guarantee jobs or the standards of porters.
The market, which can be traced back to 1327, began trading exclusively in fish following an Act of Parliament in 1699.
Every year about 25,000 tonnes of fish is sold, generating £200m.