Postal workers sort mail on north Kensington pavement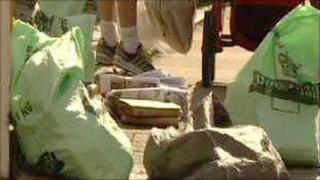 Postal workers have been sorting mail on the streets of west London before delivering them after a local sorting office was closed weeks ago.
Workers collect the mail from a depot in Park Royal before being driven to north Kensington where they arrange the bundles on their trolleys for delivery.
The sorting takes place either at the back of the van or on the street.
Royal Mail said it will investigate the handling of the post during the "temporary arrangement".
A spokeswoman for Communication Workers' Union (CWU), which represents postal staff, said the real issue is the lack of drivers to deal with the extra time it now takes for deliveries.
Depot move 'early'
Once workers are driven to the location from Premier Park depot, the post is emptied from the sacks and arranged in the order of delivery.
This practice has taken place since the local Westbourne Grove sorting office closed about three weeks ago.
Workers told BBC London that bringing the post from the depot to north Kensington cuts into the time for their rounds.
A spokeswoman for Royal Mail said: "Since last autumn we have successfully moved four west London delivery offices to Premier Park and there are no problems with deliveries for any of those areas but following the very recent move of W11 operations we are using some temporary premises and workers to support service during the initial period of change, ensuring all mail is being delivered on time.
"The temporary arrangement at these premises is that some mail is transferred to delivery people's trolleys but we will of course investigate the complaint that mail is not being handled with due care."
CWU spokeswoman said: "We believe the move of the W11 office into Premier Park was taken far too early.
"The additional travelling time out from Premier Park to the W11 deliveries is one of the main issues as we didn't have enough drivers lined up before the move.
"There are some temporary measures in place to work around the problems, but it's unfortunate as we believe this could have been avoided if the move was better planned," she said.