London's free travel 'earn back' scheme is praised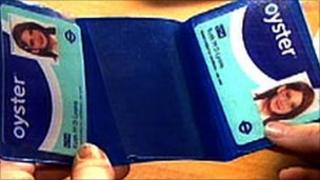 More than 1,000 young people who lost their right to free travel have taken part in a scheme to "earn" it back.
Since 2009, youths stripped of their Oyster Zip cards have been given the option to get them back by volunteering on a conservation project for a day.
Kulveer Ranger, the Mayor of London's transport adviser, met youngsters at Gunnersbury Triangle Nature Reserve to mark the scheme's first anniversary.
The option is not open to those who commit serious offences.
A total of 4,050 zip cards have been taken away from youngsters for breaching the code of behaviour in the past year.
'Conservation activities'
Mr Ranger said: "We've got a few of the young people here who have taken this opportunity that the mayor wanted to provide as part of his manifesto commitment.
"When young people are doing anti-social behaviour on our transport system like smoking, like being abusive and they lose that right to free travel, which is a privilege, they now have an opportunity to earn it back by doing some good work in the community like they are doing here in west London."
London Wildlife Trust, the National Young Volunteers Service or BTCV (formerly the British Trust for Conservation Volunteers) have signed up to the scheme.
Carlo Laurenzi, chief Executive of the London Wildlife Trust, said: "'The young people involved in this innovative volunteering project have helped to enhance green spaces across our capital.
"It's been wonderful to see how many of the participants have enjoyed learning new skills, meeting new people and taking part in conservation activities in the natural environment."
Free travel privileges can be withdrawn for a minimum period of six months for consistent bad behaviour like bullying or using threatening language.